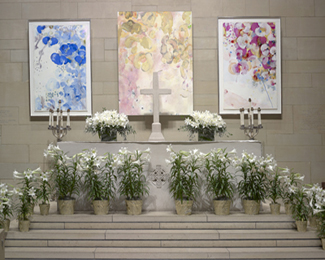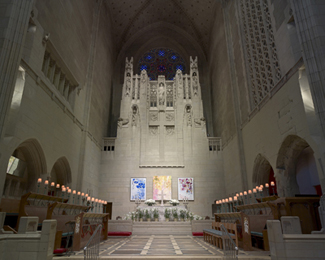 From April 11 to June 9, 2009 The Episcopal Church of the Heavenly Rest (at the corner of Fifth Avenue and 90th Street in Manhattan) will display the Transfiguration Altar Triptych, an installation for Easter of new paintings by Jasmina Danowski, who is represented by Spanierman Modern.
The triptych was inspired by Danowski's study of Raphael's monumental Transfiguration (an altarpiece of ca. 1516, housed in the Pinacoteca Vaticana of the Vatican Museum), and in particular by its radiant mandorla of blue-gray clouds framing Jesus as he rises heavenward in a transfigured state.
The three panels in the triptych—a large oil on canvas in the center flanked by smaller ink-on-paper works—form a unified composition. Striking in its sweeping upward movement, the work speaks directly to the Christian season of Easter and its theme of Resurrection, of which the Transfiguration is a foreshadowing in the Gospel accounts. Danowski's ability to convey a visceral sense of "rising up" with the flow of a design frequently manifests itself in her works on canvas and paper. As the collector and friend of the artist Jonathan Bloom states in an essay, Danowski's paintings often possess "a sense of high drama . . . a theatricality that recalls Italian High Renaissance and Baroque painting."
Bloom writes: "Her lyrical imagery often contains suggestions of flowers, berries, clouds, branches, seeds, vines, and other natural forms, but she is not abstracting from nature. She paints from imagination, not observation. Despite the loosely naturalistic imagery, Danowski's paintings resonate with the forces of nature—germination, growth, atmospheric effects—more than its literal appearance. Movement is an especially compelling force in many of her paintings; it is a unifying and animating element that pushes or pulls the pictorial elements into relationships defined by varying degrees of tension." This effect is on vivid display in her Transfiguration triptych.
Easter is always a spring holiday in the church and, therefore, readily associated with themes of nature as a metaphor for new life springing out of death, hope rising from fear, light emerging out of darkness. The Episcopal Church of the Heavenly Rest, with its spare Art Deco architecture, soaring stone reredos, and luminous stained-glass windows, is an exciting setting in which to debut these paintings. They reinforce the Easter story that can so inspire minds and hearts at a time when many are searching and hoping for a new start following crushing loss, uncertainty, or the sudden ending to a career or way of life.
The uplifting nature of the three soaring panels make them appropriate to this place and time. The themes of imagination, looking upward—toward hope—and the possibility of new life, ring out from the triptych in ways that allude to traditional narrative church art using a modern, abstract vocabulary. Danowski invites the viewer to provide his or her own narrative and to be taken to a higher place, where new life can spring forth in surprising ways. As Bloom puts it, Danowski "consistently attains a sparkling freshness and vitality that lifts the spirit in a way that great art—both in and outside the church—always has."
For information and church hours, visit www.heavenlyrest.org. To request an interview with Jasmina Danowski or the Reverend Elizabeth Garnsey, please contact Kara Flannery, director of communications at The Episcopal Church of the Heavenly Rest, kflannery@heavenlyrest.org or 212-289-3400.